Summer Camps at Gilbert House
Summer camps at Gilbert House Children's Museum utilize a hands-on, inquiry-based approach. Experienced educators guide all the learning opportunities. Our staff, our methods, and our children's museum environment create the perfect combination for a fantastic summer camp experience. Camps are designed to be fun, creative, and original as we highlight the best of what the Museum has to offer.  
*If you are a member, be sure to set up your online account so you will receive your Member Discount for camp registration.  Registration is online only.  Please email education@acgilbert.org if you need assistance, and we'll get back to you as soon as possible.  
We offer all-day Elementary Camps for Grades 1 - 4. We additionally offer morning and aftercare options for our camps. At least one week advance registration required for morning care and aftercare.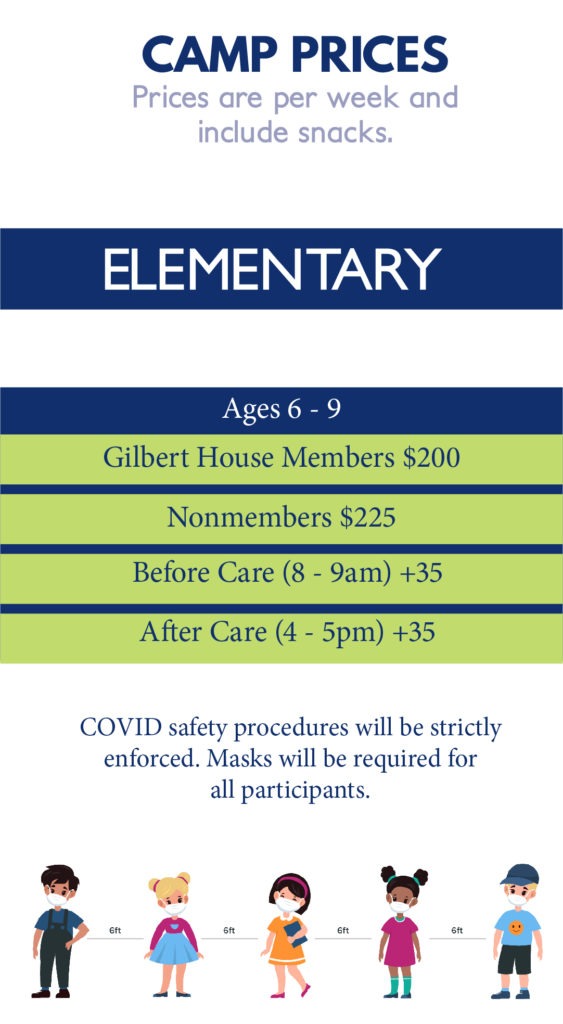 Elementary Camps:  9 AM - 4 PM
Before Care (for Elementary Camps):  8 AM - 9 AM
After Care (for Elementary Camps): 4 PM - 5 PM
Register for Before and/or After Care
Click on the link below to register for before or after care for any summer camp registration.
PLEASE NOTE:  THIS LINK DOES NOT TAKE YOU TO CAMP REGISTRATION.
July 5-9:  Artist Camp
Campers will gain experience with different mediums of art including watercolors, acrylic paints, textiles, and clay. Campers will develop new skills and hone their creativity.

July 12-16:  Zoologist Camp
All about animals! Explore habitats, the food chain, and symbiotic relationships. Campers will participate in owl pellet dissection labs and active learning.

July 19-23:  Magician Camp
ABRACADABRA! Learn to dazzle and amaze through a variety of magic tricks and chemical reactions. Each camper will construct a magic kit to take home.

July 26-30: Engineer Camp
Hold on for this wild ride! Blast a stomp rocket, launch a solar-powered car, float a sailboat, and test your parachute. Experiment with the mechanics of getting from here to there.

August 2-6:  Wacky Scientist Camp
For the curious, and the daring! Entice the senses with chemical reactions, ooey-gooey slime creations, and egg drop challenges. Combine the perfect ingredients for a lava lamp, and make scientific observation

August 9-13:  Superhero Camp
Create your alter ego and become a superhero! Campers will create their own superhero persona, design|build gadget prototypes and create logos and masks. Superheroes will also participate in a variety of themed games, challenges and crafts

August 16-20:  Best-Of Camp
Can't decide or love them all?  This week will be an exciting combination of the "best activities" from the entire summer

Our Summer Camps Have...
Hands-on Learning
Our summer camps help kids learn to use real objects as they explore real-world concepts. Our unique museum environment is filled with hands-on learning opportunities for campers of all ages.
Small Groups
Our small staff to student ratio allows for personal instruction. Our campers benefit as a close-knit team of learners, allowing for advanced activities unique to Gilbert House Children's Museum. COVID safety precautions will be strictly followed. Masks will be required for all participants.
All-day Options
We offer the convenience of optional morning and afternoon extended care. Full day camps run from 9:00 A.M.-4:00 P.M.; with extended care available from 8:00-9:00 A.M. and 4:00-5:00 P.M.
Experienced Educators
Our camp staff are trained museum educators who understand how to engage kids in out-of-school environments. Our educators bring a wealth of knowledge and experience to share with campers and go through a thorough background check and interview process.
---

Set Your Child Up for Success...
Children of all abilities are encouraged to participate in our camps and classes. In order to ensure a fun and safe experience for your child, please inform us if your child has any allergies and/or special needs. Please email Julia Golden, Programs Coordinator, at education@acgilbert.org if you would like to inquire further. Gilbert House Children's Museum reserves the right to request 1:1 supervision for participants.