Engineering Workshops are 30 minute hands-on, instructor-lead, Next Generation Science Standards (NGSS)-aligned classes available for purchase to enhance your Gilbert House Field Trip experience.
Workshops must be scheduled 2 weeks in advance.
Cost:  To add a workshop to your field trip,  select your desired workshop when completing your Field Trip Request Form.  For your small group or homeschool workshop, please use the link below. Each workshop costs $5 per student (or $50 for less than 10 students). Chaperones may accompany their groups to the workshop at no additional cost.
Time and capacity: Due to limited space, workshop sessions can accommodate up to 12 students. Groups with more than 12 students must book multiple sessions (at no additional cost). Ten minutes must be allowed between the end of one workshop sesson and the beginning of the next.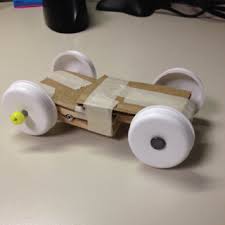 Gravity Cars

(Pre-K - 5th)
Students will build a prototype car and test how far it travels with the use of a ramp. Applying critical thinking and testing, students will make design changes to improve the distance traveled.  Your kiddos will not want to stop when the workshop time is up!
K-2-ETS1-1, 3-5-ETS1-2, 3-PS2-2.
Rockets

(Pre-K - 5th)
We have built a pneumatic rocket launcher that is waiting for your student's rockets! Students will learn a basic rocket format and will design custom alterations to make their rockets soar even higher.
NGSS:  K-PS2-2, K-2-ETS1-3, 4-PS3-4, 3-5-ESTS1-1, 3-5-ETS1-3.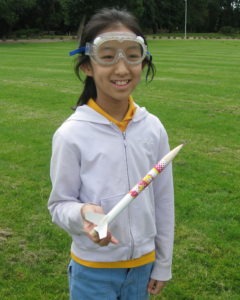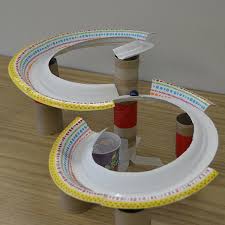 Roller Coasters

(2nd - 5th)
Ready for a challenge?  Students will work to build a roller coaster for a marble with twists, spirals, and more! Designing, testing, and applying changes will be front and center in this fun engineering workshop that introduces principles of physics including gravity, momentum, friction, and centripetal force.
K-2-ETS1-2, 3-5-ETS1-2, 3-PS2-2.
Parachutes

(Pre-K - 5th)
Get ready for some wind!  Students will construct parachutes to lift plastic animals up and out of a wind tube.  Students will explore the concepts of gravity and drag through hands-on experimentation.
NGSS: K-2-ETS1-1, K-2-ETS1-3, 3-5-ETS1-1, 3-5-ETS1-3.